In this month of September, discover upcoming books in Meditation & Yoga to help de-stress and to find the right balance for the body and mind. Plus, explore what's new in Inspiration & Divination to help re-connect with the Divine. Take a peek at our book selection!
By Sam van Schaik 
(Publication Date: July 2020  – ISBN: 9781611808254 – Pages: 240 I Price: $18.95)
In Buddhist Magic, van Schaik takes a book of spells and rituals—one of the earliest that has survived—from the Silk Road site of Dunhuang as the key reference point for discussing Buddhist magic in Tibet and beyond. After situating Buddhist magic within a cross-cultural history of world magic, he discusses sources of magic in Buddhist scripture, early Buddhist rituals of protection, medicine and the spread of Buddhism, and magic users. Including material from across the vast array of Buddhist traditions, the author offers readers a fascinating, nuanced view of a topic that has too long been ignored.
By Arin Murphy-Hiscock
(Publication Date: October 2020 – ISBN: 9781507214244 – Pages: 256 I Price: $18.99)
Craft a home for your witchcraft knowledge, secrets, new spells, and divinations with this beautifully designed, customizable grimoire to elevate and advance your witchcraft practice. A grimoire is a book of magic, where a witch chronicles all of her spells, rituals, recipes, herbs, incantations, and magic tools. It is where she can record her craft and all keep all the knowledge she has accumulated in one place— making it an essential part of her practice and a sacred text for other witches.
Paula Tozer
(Publication Date: October 2020 – ISBN: 9780875169095 – Pages: 284 I Price: $16.95)
Elegance is the natural expression of prosperity, alive within your soul, unfiltered by your mind, waiting to be re-discovered. You were meant to live an elegant life! Author Paula Tozer had experienced a painful divorce, as well as the deaths of 15 friends and family members over a 10-year span in her life. She reached a point where she was left asking herself these questions: Where do I go now? Where is the hope in fighting a battle that never seems to end? That s when she gave up the fight and looked within for direction from her most supportive and dearest friend. The rebuilding started with one basic step . . . You become your own best friend. Through the words of her Constant Traveler, the most honorable, compassionate, and elegant part of her, Paula found the answers that allowed her to rest, recover, and heal. The 52 statements of An Elegant Mind's handbook are the threshold to an open dialogue with your own Constant Traveler. In this book you will discover the benefits of: Cultivating a friendship with your Constant Traveler; Embracing an Everything Gently mindset; Accessing your personal Wellspring of Inspiration.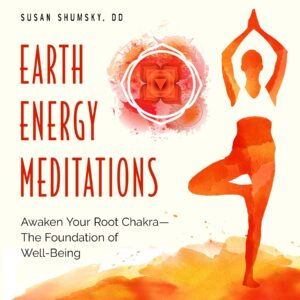 Earth Energy Meditations
Susan Shumsky
(Publication Date: January 2021 – ISBN: 978-1578637034 – Pages: 224I Price: $15.95)
Earth Energy Meditations provides an answer to these maladies. It helps us reconnect with the earth and primal energies with powerful, easy-to-use methods of guided meditation, affirmation, visualization, breathing, and physical movements. By practicing these techniques, we can reap the benefits of an open, clear, and healthy root chakra. We can return to a sense of stability, security, protection, and centered well-being. We can enjoy strength of character, integrity, perseverance, persistence, self-acceptance, self-worth, practicality, healthy survival instinct, and prosperity.
By Jonathan Dee
(Publication Date: February 2021 – ISBN: 9781782497448 – Pages: 96 I Price: $9.99)
A guide to the secrets of rune-reading, an ancient predictive art, that teaches you how to layout runes and interpret them instantly.
By Rajshree Patel
(Publication Date: April 2021 – ISBN: 9781401956349 – Pages: 256 I Price: $18.19)
Why do some people thrive while others just get by? What's their secret? The ancient Indian spiritual tradition Vedanta calls it prana, or life force. We can call it a vital force. By any name, it's the fundamental fuel that activates and optimizes all physical, emotional, and cognitive functions; including consciousness, perception, thinking judgment, and memory. When we're fully fueled with this essential energy, it transforms our mind-set and moves us toward greater happiness, success, and self-awareness. Rajshree Patel is a former federal prosecutor who discovered Vedanta by accident and went on to become an internationally renowned teacher of its deep wisdom and dynamic practice. In this practical guide, she gives you back your power with simple tools to take hold of the limitless energy of life itself — more swiftly and easily than you ever thought possible. You'll learn: What vital force is, how it influences every single aspect of your life, how to enhance it—and how your mind, the biggest energy hog, can drain it; Tools to dial down the chatter of your racing mind and resolve your personal energy crisis; Why traditional mindfulness meditation may not be your path to inner peace; Easy biohacking techniques, from breathwork to meditation to movement, that reduce stress and maximize joy; and Ancient secrets to fuel your purpose and performance in every aspect of life.
By Ian Gawler
(Publication Date: April 2021 – ISBN: 9781925642940 – Pages: 304 I Price: $15.95)
Your mind has two aspects. Maybe you are only familiar with one — the active thinking mind with all its attendant emotions. Blue Sky Mind will introduce you to the other half — the still mind. While meditation does involve getting to know both aspects of your mind better, more particularly it provides a reliable way to become familiar with the still mind. This aspect of the mind is renowned for its innate inner peace and clarity, loving-kindness, and wisdom. Meditation introduces us to the still mind with direct certainty. It then helps us to function with confidence from its center wherein all the qualities we aspire to as good people are to be found.
By Swami Saradananda
(Publication Date: May 2021 – ISBN: 9781786784841 – Price: $19.95)
The book explores the physical issues that may arise while sitting, from painful knees to tight hamstrings. Swami Saradananda shows how yoga preparation, breathing, and adapting postures can help to strengthen the body to be able to maintain a sitting meditation. She invites us to understand how the mind can easily be distracted, like a puppy, and that physical discomfort can often be this distraction in disguise. This is the only book to focus on the physicality of formal meditation practice. Helping prepare the body for the mindful practice of meditation, so that mind and body are in synchronicity. It will be an invaluable reference guide for students of mindfulness, yoga, Buddhism, as well as New Age traditions.